SAVING MONEY

Lessons and Worksheets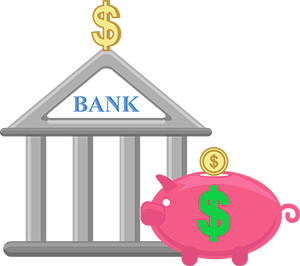 This section includes lessons on saving money. Learn about what we need to know to improve our savings.
Also, see our Banking and Savings Accounts category to learn about bank savings accounts and other related material and our Budgeting Lessons category to learn about budgeting and creating a plan for saving money.
Understanding Saving Money
Saving is when you are not spending all the money that you have that you have earned. It is the process of putting aside money for future uses, and not spending it immediately. When you are saving, you are accumulating your money in bank deposits and other places to save your money.
Saving is important because it can help a person or family become financially secure. Saving money is a good habit to develop on a daily basis. Savings goals will be easier to achieve if you understand what you are willing to give up in order to save money. To reach your financial goals, try to limit your spending, and focus on saving.
Use the following lessons to help teach and learn saving basics:
Saving Money Lessons and Worksheets
---

SAVING MONEY
An introduction to saving money. Students learn reasons why they should save money, and how to save.
WHAT IS SAVING VIDEO LESSON
A video lesson introducing students to saving, why we should save, and how to get started.

PERSONAL SAVINGS
Personal Savings: Saving Money
Students learn about setting personal savings goals for the things they really want. Also, why using a bank account is a good way to help save money.

MONEY HABITS
Understanding your Money Habits
In this lesson, students learn to understand and identify what are their money habits. Every money decision you make either reinforces good or bad money habits. The first step toward saving money and creating good money habits is to first identify the money habits you currently have.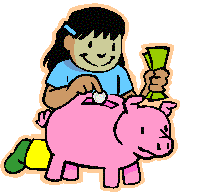 SAVING FOR FRECKLES
A children's story about spending and saving money and using it wisely. Includes reading comprehension worksheet.
EMERGENCY SAVINGS FUND
Emergency Savings Fund. How much Emergency Money should I save?
Learn how much to save for your emergency fund. Emergency savings are designed to cover unexpected expenses or financial emergencies. You can use emergency savings to help pay unexpected bills, small or large, that are not included in your monthly spending and expenses.

SAVING FOR RETIREMENT
An introductory lesson on saving for retirement and retirement planning. Students learn fundamentals related to saving for retirement and investing including rates of savings.
ADDITIONAL LESSONS - SAVING MONEY
The simple way to Build Wealth
A short video lesson. A simple strategy to build wealth, by understanding earning, spending, saving, and investing money. A basic techniques for beginners. Spend less, avoid debt, and achieve your financial goals.
Saving and Investing: Getting Started
Students will learn the reasons for saving money.
Saving and Investing Tools
Students will learn about different ways to save and invest.
INFORMATIONAL ARTICLES ON SAVING
Saving Money Informational Resources
Most of us wish we could save more money, but how do we do it, and how do we get started?

Back to more Banking and Savings Accounts Worksheets and Lesson Plans
Learn Budgeting Lessons for creating a plan for saving.
More Saving and Investing Worksheets and Lesson Plans