COUNTING MONEY - TEACHING AND LEARNING MONEY EXERCISES GAME MATH ACTIVITY WORKSHEET LESSON PLAN TEACHER MANIPULATIVES RESOURCES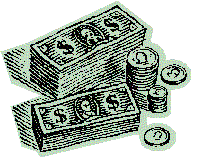 Teaching Money Skills Information:

Teach and learn counting money with worksheets, lessons, and lesson plans. These lessons and printable worksheets will help your students master concepts of identifying and counting money.
COUNTING MONEY WORKSHEETS AND LESSONS
Kid - Special Education - Children - Preschool - Kindergarten
First Grade - Second Grade - Third Grade - Fourth Grade
COUNTING MONEY WITH COINS
Teaching and learning how to use and identify coins and cents is an important money skill to learn at an early age. These printable worksheets and lessons will help your students master concepts of counting money with coins, whether they are just beginning to learn to count coins, or if they need additional practice. Worksheets are customizable for varying abilities and age groups. Includes United States coins, Canadian coins (including dollar and two dollar coins the Loonie and Toonie), Euros, and British Currency.

COUNT MONEY WITH BILLS AND DOLLARS
Teach and learn to count and use money with a focus on bills and dollars. Money worksheets, counting money lessons, and lesson plans to help learn counting money and counting back money with dollars and bills.

MONEY RECOGNITION AND IDENTIFICATION
Our money recognition and identification lessons category is for students just beginning to learn about and identify money. For early money students, or students who need help identifying money and related values. Learn to recognize and identify money by name or value. Printable play money to print and cut out. Coloring pages with money pictures.

LEARNING MONEY SKILLS - INTERACTIVE LESSONS
Interactive computer learning lessons and games. Use these interactive exercises to help you teach and reinforce money skills. Lesson difficulty may be adjusted by the educator to the specific students' needs.

COUNTING AND MAKING CHANGE WITH MONEY
One of the most difficult and basic money skills is understanding how to make change, and knowing how much change you will receive when purchasing an item or items. Use these worksheets and lessons to help your students learn how to make change. Practice is available with coins and bills. Learn to make change for a dollar. Interactive lessons. Please note that making change requires more advanced money skills. Prior to using these lessons, students should have mastered our other more basic money categories, including identification, coins, and bills.

PLAY MONEY
Reproducible printable play money to print for your money lesson.