TEACH AND LEARN MONEY - COUNTING MONEY LESSON PLANS - WORKSHEETS - BILLS AND DOLLARS LESSON PLAN - TEACHING YOUR CHILD TO COUNT MONEY - MONEY PRINTABLES - BANK NOTE - CURRENCY - PAPER MONEY
COUNT MONEY - BILLS AND DOLLARS LESSONS

Kids - Special Education - Children - Preschool - Kindergarten - First Second Third Grade
Teach and learn to count and use money with a focus on bills and dollars. Money worksheets, counting money lessons, and lesson plans to help learn counting money and counting back money with dollars and bills. Also counting bills and coins. Also see our other money categories for counting coins, cents, and making change.
SAMPLE PLAY MONEY PRINTABLE - BILLS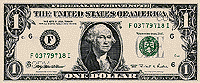 Sample play money printable to print and cut out.
Available in US and Canadian currency.
Make your own custom sheets of play money.
One, Five, Ten, Twenty, One Hundred Dollar Bills.
COUNT BILLS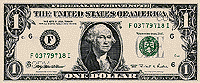 Worksheets to learn to count money with bills.
Our basic counting dollars and bills worksheet. Practice
counting money by counting bills. Dollars, fives, tens, twenties.
US or Canadian bills.
COUNT MONEY LESSON PLAN

Count Money Practice - Lesson Plan
Students practice and learn to count money with coins and bills. Includes hands-on instruction and classroom exercises for teaching counting money and improving money identification skills.
COUNT MONEY
INTERACTIVE EXERCISE
Counting money. Learn to count money
with a focus on dollars and bills.
COUNTING MONEY
BILLS AND COINS


Practice counting money by counting dollars, bills, and coins. Pennies, Nickels, Dimes, Quarters. Also, you may use coins with amounts written on the coin, coin names, the back of coins, Canadian coins (including the dollar coins, the loonie and toonie), Euro coins, and British coins. Mix coin fronts and backs - heads and tails. Choose currency in either cents or dollars.
THE NEW $20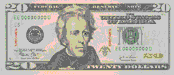 ADD BILLS
Practice adding money with bills.
* Add Bills (Dollars, Fives, Tens)
* Add Bills (Dollars, Fives, Tens, Twenties)
* Add Bills ($1, $5, $10, $20, $50)
* Add Bills ($1, $5, $10, $20, $50, $100)
WHO HAS MORE?
Count money and select who has more.
ADDITIONAL MONEY LESSONS


Coins and Cents Worksheets and Lessons
Counting Money - Primary Education - 1st - 2nd - 3rd - 4th - 5th - 6th - Grade - Child - Elementary Education - Dough - Greenback