Identifying Money

Coins Interactive Online Game
Students use the following interactive game to help reinforce money recognition with coins. Students practice identifying pennies, nickels, dimes, and quarters.
It is important to help students understand money and how it works. Students will be encouraged to use their knowledge of currency to identify the coin. This problem set deals with pennies, nickels, dimes, and quarters. Students will have the opportunity to try and identify different sets of coins.
Identifying Money Game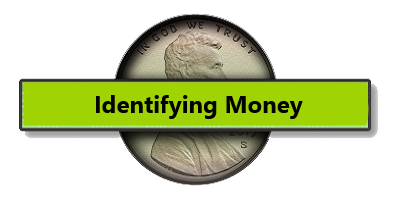 Objectives
Students will be able to identify pennies, nickels, dimes, and quarters.
Students will recognize different names and values of different coins, colors, and sizes.
Instructions
Click the image or link above to play the Identifying Money interactive game. On the first screen, students choose to play either an easy or difficult game.
The easy game is limited to a single coin of each type. The more difficult game includes larger amounts of currency.
For both games, students should move the coin into the box that is equal to the coin requested. For example, if the requested coin is a penny, then the student should move a penny into the box.
Money is moved by clicking on the mouse and dragging it or using a touch screen device. After the money has been moved, press the check button.
The student will be notified if the coin is correct. If incorrect, the student will continue until the correct coin and amount has been placed in the box. The game continues until several amounts have been completed successfully. A score is given upon completion based on the student's answers during the game.
Grade Levels
Pre-K, kindergarten, first grade, second grade, and special education.
Requirements
Computer with a modern web browser, such as the latest version of Chrome, Internet Explorer, Firefox, Safari, or Edge. May also be run on Apple iPad, tablets, phones, chrome book, etc.
---
Worksheets
Practice matching coins to words.
Suggestions
Do you have a suggestion to enhance this online game? Do you have a suggestion for a related game you would like to see here? Is your student having difficulty with a particular aspect of this lesson? Then please use our contact us link and let us know.
Back to more Money Recognition Lessons